The Dunnottar Station Museum in the Village of Dunnottar, Manitoba Canada
Recreating the Past:
This area was developed by the Canadian Pacific Railway in 1903 when the rail line was built north from Selkirk, Manitoba to Winnipeg Beach through the areas named Matlock, Whytewold, and Ponemah now called the Village of Dunnottar (amalgamated 1948).
The area called Matlock was named for a town in Derbyshire, England.
The name Whytewold was named after Sir William Whyte who was Vice President of the CPR and an original summer resident.
Ponemah was named from Longfellows poem "Hiawatha" which meant "the land of the here after", or where the birds go.
The rail line was later extended north to Gimli 1906 and to Riverton in 1914.
The work of residents and volunteers in the village has become very evident. Local folks have been very busy cleaning up, gardening, painting and building. There is a growing interest in remembering the origin of the area and the future of this quiet little Village beside Lake Winnipeg.
The group called "The Friends of Dunnottar – Station Project" formed in 2004, and acquired assistance from the Province of Manitoba Community Places Grant. Donations are accepted and tax receipts given through the Village of Dunnottar Office – P.O. Box 321, Matlock MB R0C 2B0 or at the Village of Dunnottar office – 44 Whytewold Road, Matlock
Donations of artifacts and vintage memorabilia are gratefully accepted by calling Bruce Smith 1-204-389-5682 or Don Bowles 1-204-461-1787
The Friends of Dunnottar – Station Project. PO Box 444, Winnipeg Beach MB R0C 3G0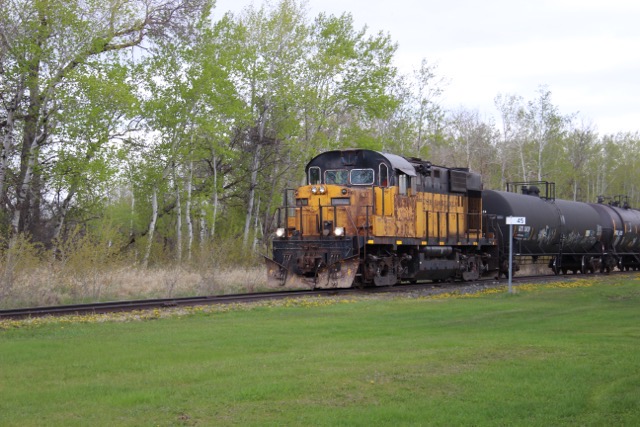 The rail line to Gimli from Selkirk, Manitoba is run by the Lake Line
Railway group. It mainly hauls tank cars full of alcohol from the Diageo (Crown Royal) plant in Gimli, Manitoba.
Location

300 Railway Street
Village of Dunnottar, Manitoba

Contact Us

info@dunnottarstation.org
(204) 389-5682
PO Box 444
Winnipeg Beach MB R0C 3G0

Village Apparel Available

Dunnottar Station T-shirts ($20) in red, yellow, tan sage, light green. Sizes: S, M, L, XL, XXL
Village of Dunnottar Sweatshirts ($35) in dark green. Sizes: S, M, L, XL, XXL

Please e-mail us for more questions or to order!