Ponemah Beach Central
Reopening in June  for the  2017 Summer Season with new board members and plans for more activities.
We have used this building for 14 years as an Art Center  
It is available for more programs and events.
~~~~~~~~~~~~~~  summer  events  are finished  ~~~~~~~~~~~~~~~~
The summer programs have come to an end.  There was painting with Charlie McPherson, hand building in clay with Dory walker, yoga with Jennifer Conlin.
The Dunnottar Museum is currently being put to bed for the winter.
The Thera-Piecers quilting group are meeting once more in September.
Toastmasters in the Art has moved back to Gimli to the Multi-purpose Building on North Colonization Road, behind New Horizons, in Gimli.
 The winners of the quilt raffle for 2017 are:
1 first prize – Lakeside  Quilted wall hanging  –   Janice Thevenot:
2nd prize  –  small Canada  small quilted hanging –  Jan MacDonald
3rd prize –  Dunnottar Museum T-Shirt –  Hilda Hiebert
 Thank You to all the folks who helped out by buying a ticket.
Betty J. Jackson – a retrospective – a season ender
Opening: Friday September 1, 2017   –   7:00 to 9:00  –  Wine and Cheese
Friday  Outdoor  Market open from 4:00 to 7:00
 Gallery also open on Saturday / 2nd  and Sunday /  3rd –  10:00 to 4:00
~~~~~~~~~~~~~~~~~~~~~~~~~~~~~~~~~~~~~~~~~~~~~~~
 Contact: Kate Roed:
204-641-1570  _  > dkroed@gmail.com  <
This building was designated as a Heritage Building  in the Village of Dunnottar in 2016.
In the summer,  every Friday afternoon, the "Thera-Piecers"  gather to quilt and enjoy each others company.  – 1:00 to 4:00PM.
The 2016 raffle quilt was awarded to:
The Quilt is called   "A Day at the Beach"  was won by long time ticket buyer –  Fran Allary. 
The  "Canada"  Quilt was won by Kathleen Stairs
The Dunnottar Station T-Shirt was won by Jackie Morin.
We also meet year round at Matlock Rec Club with the "Sew'n Sews" on Mondays,  11:00 to 3:00.  We use our creative ideas to make quilts for charity, babies, elders and family members.
The Thera-Piecers continue to make Angel Gowns for the Saint Boniface Hospital . We are happy to say that the demand is not huge so we are not sewing as many Angel Gowns and wee blankets as much as we thought we might be.
 During  June, July and August the " Toastmasters in the Arts" meet every Wednesday at  10:30 to 12:00.  Guests are very welcome  so come and join us and see what fun we have. There are no stuffed shirts in our group.
We had a very sucessful summer  in 2016 and managed to get the "Distinctive Club" award.
  From September to May we meet in Gimli  at the Multi-purpose building behind New Horizons at 17B Colonization Road.
Again this year the quilters in the area are hosting an annual quilt show.
You are invited to visit the  The Quilters Tour – August 12/13,  2017
 1)Ponemah Beach  "Thera-Piecers", at 27 Central Ave at Railway St.
Saturday, 12th;  Sunday. 13th;  from  10:00 to 5:00 PM
2) "Lakeside Quilters".  in the Gimli curling Rink – Recreation Centre;
45 Centennial Road,  West of Hwy #9
Saturday 13th, 10:00 to 6:00;  and Sunday 14th, 10:00 to 4:00 PM
3)  Heidi Hunter "Running with Scissors Studio" 3044 Prout Road off Hwy #8  onto PR #229.
Drive 3.4 km & turn South on 17E.
Saturday 12th,  11:00 to 5:00 ;  Sunday 13th,  11:00 to 5:00  PM.
~~~~~~~~~~~~~~~~~~~~~~
There is an all season  Geocache hidden near by.
~~~~~~~~~~~~~~~~~~~~~~~~~
Some of the events we have hosted  in the past are:Art Classes,  Artists shows ,  Age Friendly meetings,  Pot Luck suppers, Quilt Club "The Thera-Piecers",  Quilt Shows, Toastmasters, Fiber Fest with Live Alpacas on site, Otters Croft singers ,  Birthday parties,  Anniversary parties, Bridal Showers, etc.  This is a very diverse use bui
~~~~~~~~~~~~~~~
 Betty Jackson and Thera-Piecers have made and raffled quilts and wall hangings each year since 2005.  With the funds the Dunnottar Station has accumulated from donations and ticket sales, we have purchased a 
Playground Swing set and  two Park Benches.
  They are placed north of the Station Museum.  The children of the Ponemah now have a place to swing and play.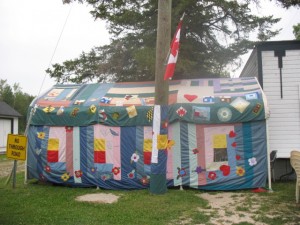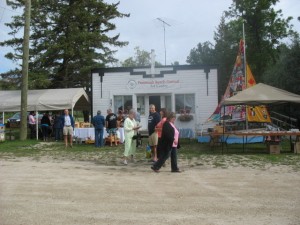 ________________________________________________________________________________________________
The original Ponemah grocery store and post office has been transformed into a place for community activities at Ponemah Beach  Central  located at 27 Central Ave. at Railway Street in the Village of Dunnottar.
The 24-by-40 ft. building, dating back to 1929 or earlier,  housed the grocery store of the Foures and Wilkinsons as well as the Ponemah  Post Office from 1929 until 1968.  It is the second building on the site.  The first building burnt but we are not sure what year that happened.
The building was purchased in 2001 by Tannis and Cornelius Froese and restoration began in 2002. It had to be lifted to save it and a new beam and  roof  installed.  As the work of gutting the interior began some archival items were recovered . They found some  Free Press printers press proofs dating from the 1940's and newspapers  and card board boxes which had been used as insulation in the walls and ceiling.
The original knob and tube wiring had to be removed and replaced  to the year 2000 commercial standards.  As it is an uninsulated building to date it remains a summer use only work in progress.
It opened officially on Sept 6 , 2003 with a display of local artists recent paintings,  sculptures and pottery.
This privately owned and operated  community meeting place and  Art Centre for the neighbourhood is a major asset to the Village.
This vintage building was  the host of  weekends events like :  Quilt shows,  Fiber Festivals and the  local artists  "Wave" show and sale.
The  space is used to sell Dunnottar Museum  t-shirts  and to display the original  art raffle Quilt of the year.  Selling t-shirts and quilt raffle
tickets help fund the Dunnottar Station Project across the street.
Volunteers were:
Some of the community volunteers who helped establish this creative corner including the Station Museum are:  Tannis & Cornelius Froese, Bruce Smith & Betty Jackson, John & Barb Morris,   Don Bowles,  Elaine Twanow,  Rick Gamble,  Susan & Alf Goodall,  Jason Oliver,  Lou Fontaine,  George Thompson,  Robin & Cydnie Mather,  John Muir,  Daniel Aikens,   Jack McDowell,  Ian Livingston,  Dave Thompson,  Frank and the late Mardi MacKinnon,  to name a few.
Location

300 Railway Street
Village of Dunnottar, Manitoba

Contact Us

info@dunnottarstation.org
(204) 389-5682
PO Box 444
Winnipeg Beach MB R0C 3G0

Fundraising Shirts Available

Dunnottar Station T-shirts ($15-$18) in red, yellow, tan sage, light green. Sizes: S, M, L, XL, XXL
Village of Dunnottar Sweatshirts ($25) in dark green. Sizes: S, M, L, XL, XXL
Golf shirts ($25) in medium green. Sizes: S, M, L, XL

Please e-mail us for more questions or to order!

Fundraising Quilt Raffle Tickets

$2 each or three for $5!

This is this year's quilt: